The durability and life-long strength of the polyvinyl chloride compounds used in the manufacture of Country Estate Fence produce a traditional fence that endures rugged use and the test of time. Country Estate Fence is a deterrent to deterioration from moisture, temperature extremes, ultraviolet exposure …and time itself. Plus, maintenance is reduced to an absolute minimum.
The evidence is overwhelming. Country Estate Fence is totally superior to all conventional fencing materials. Country Estate Fence polyvinyl components are constructed of scientifically formulated 100% virgin PVC compounds …consistently outperforming any and all wood, metal or imitation polyvinyl fence products. Since the introduction of Country Estate Fence, equine professionals have applauded the greater protection polyvinyl fence provides their animals.The day Country Estate Fence is installed, all traditional fence maintenance halts.
PVC fencing was originated by the manufacturers of Country Estate Fence, and like a true champion, Country Estate Fence continues to outperform traditional fencing products and PVC imitators. Years and years after your decision to use Country Estate Fence, you will have transferred many maintenance dollars and workdays to better investments. Using Country Estate Fence is your best management decision.
Maxwell Rail
Enhance the look of our most popular Country Estate privacy fence styles with the new Maxwell rail. Available in white, almond, adobe and gray in standard lengths of 95 inches and 10 feet, it adds a touch of elegance when used in conjunction with your favorite fence style and/or handrail.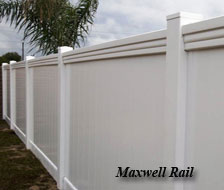 Colors & Options
So many fences...So many choices...
Country Estate Vinyl Products are available in white, almond, gray and adobe. We have a variety of optional cap styles to choose from as well.
If you are interested in a Lakeland privacy fence or a rail fence and prefer a more wood-grained look, ask about streaking and embossing options for these fence styles.
Streaked
"Streaking" is a new process in which a darker colored pigment is streaked through either our almond or gray material to give a variegated, wood grain appearance. The surface of the material is smooth (although it is suitable for our new embossing process if you also want a simulated wood-textured surface) and it is the same quality material that we use in our solid-colored products. Streaking is available in almond or gray.
Embossed
Our embossed products are our regular, high quality Country Estate profiles, but they are embossed with a wood grain pattern. We think these embossed products will suit the tastes of customers who prefer a fence with a more wood-like appearance and a less glossy finish than our standard vinyl profiles. Embossing is also available in our Country Estate Decking.